IV-PVG
Integrated Variable Pneumatic Vacuum Generator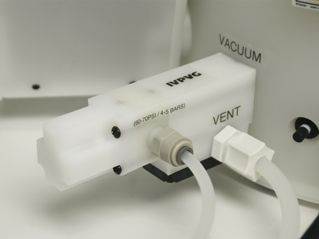 Generate your own vacuum
No more noisy vacuum pumps or loss of house vacuum to stop you ever again!
I

ntegrated (attached to spin housing)

V

ariable (allows fine vacuum force adjustment*)

P

neumatic (consumes nothing when off)

V

acuum (meets the needs of most holding requirements)

G

enerator (no moving parts — indefinite life expectancy!)
Note: It requires 10 — 60 PSIG (0.7 — 4 bar) of CDA/N2 to generate approximately 1 — 25" Hg of vacuum. Maximum free flow rate is 1.7 CFM. Only Laurell o-ring sealed chucks are recommended. NOT recommended for use with most Laurell High Porosity Vacuum Chucks.
An easy-to-install retrofit kit is available for all existing Laurell systems with a pneumatic vacuum control valve.
How much quieter is the IV-PVG is than your vacuum pump?
*adjustment requires simple gas regulator (not supplied)
© 2010–2022 Laurell Technologies Corporation