Multi-System Control added to Spin 3000
Control, monitor, and program multiple (8 or more) Laurell 650 series spin processors from one PC desktop running Spin 3000.
A Powerful Utility
Bluetooth wireless technology allows you to connect with your spin processor up to 100 meters (328 feet) from your desktop.
Use your PC running Microsoft Windows® to:
Watch over your system while you are not in the lab — Who is using my system (and not cleaning it perhaps)?
Record programs or interact with all your Laurell systems being run or determine which system is free...
Write programs or change anything from the comfort of your office, even run a program unattended
Add text comments to each program step
Easily write, update, store, retrieve, and compare your processes
Visualize processes with active graphic display showing chemical flow, lid movement, spray patterns, and many accessories
Touch interface (tablet) also shown in the lower right is a wireless operator interface only,

NOT Spin 3000
Virtualize Your Process
Use our revolutionary Process Simulator to create "what if" scenarios, then test them in virtual or in actual mode (if the hardware, when interrogated, matches the scenario).
System Requirements
Required: 1 Ghz processor or better, 16MB of RAM, 16MB of free disk space, 1 free COM port, Microsoft Windows 98 SE or higher
Recommended: 32-bit color, SVGA (1024x768) video or better
Computer / tablet not included. For use with our advanced 650-series process controller only.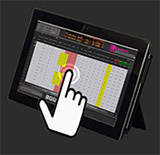 © 2010–2021 Laurell Technologies Corporation